I don't get it! What are these?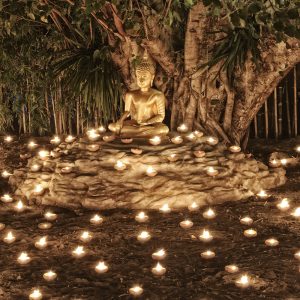 The amulets sold on this site aren't just talismans, they are actually fetishes – small statues and charms (mostly) over which lengthy rituals have been done by Buddhist monks and lay masters seeking assistance from various deities, ghosts and nature spirits.
More than just symbols or representations of the unseen world, these amulets are thought to be inhabited.
Thai superstition holds that devotees who carry these amulets are enveloped in the energies of their"invisible friends," and so reap the benefits of supernaturally amplified attraction, protection, luck, etc.
But whether you are a devotee or simply a collector, we would ask that you please consider the many hundreds of hours of mystic prayers, sacred offerings and arcane rituals which went into each and every one of these fascinating finds- more than just works of art, they are also blessed objects, and should be treated as such.
Who buys these things and what do they do with them?
I'm determined to make these amulets as accessible as possible, so the prices I'm charging on this site are a good 30% less than all the other amulet shops – but even with a massive discount, they're still out of reach for the average Thai! So what kinds of people buy what are (in effect) high-end shamanic tools from a developing country?
Wealthy business people and celebrities, who treat them as status symbols for "bling" or "swag."
Geeky collectors, who get off on on their artistry and craftsmanship while participating in an informal fan subculture around the various Buddhist sorcerer monks who make them.
Devotees of the occult,who make daily offering of prayer, water and incense in hope of invoking the enveloping influence of this or that spirit or spiritual force.
Do I have to be a Buddhist to carry these amulets?
In Thailand it's thought that spirit amulets can help us to grow as human beings by amplifying our awareness and experience of life – and you don't need to be a Buddhist to benefit from that.
On the other hand, it's also believed that these sorts of fetishes are as affected by us as we are by them, so carrying them is a big responsibility that not everyone is well-suited for – the term "instant karma" comes to mind…
In the end, amulets or no amulets, a good heart and a focus on compassion will take you far no matter what you do – and a mindfulness practice of some sort couldn't hurt either…
Wait a minute, people don't really believe this stuff, do they?
Animist shamanism has a long history in Thailand and maintains a great deal of cultural prestige, even today – particularly in the Issan region,where the "Magic Kingdom" shares borders with Laos and Cambodia.
Perhaps because of this, the Thai amulet market has grown into a multi-billion baht business – not surprising in a Buddhist country where the vast majority of the population also believes in ghosts!
What is "Thai Voodoo" and how did it get that nickname?
The various strains of Thai sorcery all seem to have their roots in Cambodia shamanism but no actual connection to the Haitian religion of Vodou (other than certain techniques and practices all these indigenous magico-religious practices seem to share around the globe, regardless of origin). So why the bizarre nickname, "Thai Voodoo"?
The short answer is that in the same way that the term "Kleenex" has entered Western vernacular as a generic term for paper tissue, the Hollywood portrayal of "Voodoo" as a spooky, exotic magical practice trafficking in forbidden desires has inspired Thai slang with a popular, shorthand term for their own, homegrown brand of indigenous animism – it really comes down to that simple explanation.
Of course, looking at many of these fetishes and amulets, it's not hard to see why…themes of sex and death intermingle in equal measure,while the promise of occult power seems to return our gaze at every turn-it's truly an amazing synthesis of a shamanic technology with a sensational aesthetic which seems to hit all the most primal buttons of the human psyche, full force.
That being said, it's still not "voodoo," but then again, neither is Haitian Vodou… and as always, the reality is far more interesting than the Hollywood version anyway.
Why the focus on sorcery? Why not sell "mainstream" Thai amulets too (or instead)?
The webmaster of magiedubouddha.com has already curated an impressive collection of "mainstream" amulets, and while I admire his efforts greatly, I see no point in trying to reinvent the wheel.
More profoundly, Thai sorcery charms exude a kind of cthonic magnetism and haunting presence that "mainstream" Buddha amulets just don't seem to have. Why do these resonate with me so powerfully? Who knows?
I have found that the traditions most cultures describe as "witchcraft" are really just older and more shamanically oriented than the universalist faiths under whose banners they are often syncretized, so maybe I'm just an "old soul."
These amulets are so %$#&@ cool! Why haven't I ever heard of this before?
The market for Thai sorcery charms is huge in Malaysia and Singapore, but they remain generally unknown outside Southeast Asia. Even if you do poke around the internet and stumble across the storefront of a Singaporean occult shop, most of the sites selling these sorts of amulets are aimed squarely at elite collectors, giving almost no information about their intended function while charging ridiculous prices you would actually have to be wealthy to even consider.
Even in Thailand, animist shamanism remains a "hidden tradition" of sorts – it's widespread but not something that is ever really promoted to foreigners.
Where do you get your amulets from?
The amulets on this site are supplied by trusted and intrepid sources in Bangkok, Chiang Mai and the jungle towns near the Cambodian border who have invested many years of research and respectful exploration in visiting various obscure Wats (Buddhist temples) throughout Thailand and getting to know the monks, ajarns, etc.
The closer to the origin point my sources can get, the better the quality and the lower the price of the amulets – bad economics, but great for collectors!
Why should I buy amulets from you when I can get them cheaper on ebay?
While I'd love to be able to report otherwise, 95% of the "amulets" listed on ebay have never been anywhere near a Buddhist temple, let alone filled with the powders and herbs required for traditional empowerment rituals – instead they are mass-manufactured in special factories whose sole purpose appears to be flooding the tourist market with unconsecrated fakes.
That being said, everyone who gets into collecting Thai amulets seems to start off by collecting a handful (or more) of worthless duds and gift shop trinkets… perhaps that's just part of the entrance fee to this remarkable subculture…
What's the deal with the plastic cases and why are some of them filled with liquid?
Thai amulets are frequently sold in waterproof cases because statues made out of clay, compressed herbal powders, etc. are not indestructible and these things are meant to be worn; at the same time, even metal amulets rarely include hooks or eyelets so the cases provide a way to attach them to a necklace.
Quite often these amulet cases will also come pre-filled with a red or yellow tinted liquid believed to nourish and strengthen the amulet's spirit – not unlike the specialized oils used to consecrate and charge mojo bags in the African-American "hoodoo" tradition.
Powered by HTML5 Responsive FAQ